At Graham Manufactoring
We combine our 60+ years of experience with some of the most advanced software to create the best heat exchangers on the market.
From state-of-the-art thermal and mechanical design programs, such as HTRI and HTFS, to dedicated in-house software like Autodesk Inventor 3D and AutoCAD, our designs meet or exceed the various codes from across the globe:

ASMI VIII Div.1
PD5500
Stoomwezen
Swedish pressure vessels
TBK2
Shell and tube heat exchangers.
Fuel oil heaters
Steam generators and re-heaters.
Waste heat boilers
Sulphur condensers
Catalyst coolers
Low and high pressure feed water heaters
Graham heat transfer equipment can be
can be found all over the world.
Using bespoke designs help to ensure that our customers receive the very best product for tailored to their needs. With quality and safety serving as the core of our operations, all products are continuously inspected from the time they are designed until they leave our facilities
Process condensers.
Cylindrical and rectangular steam surface condensers.
Pressure vessels.
Atmospheric relief valves.
Packaged and skid mounted systems.
Steam ejectors and systems.
Refinery overhead systems.
Desalination systems.
Steam ejector refrigeration systems.
Power generation ejector systems.
Equipment for air cooled steam condensers.
Providing Quality in Services
& Products Alike
Graham Manufacturing has been providing quality
products and services to the gas and oil industry for many years
Combining our expert teams with our industry-leading products enable us to provide the expert service and products our customers have come to expect from Graham Manufacturing. Regardless of the product you need,
a heat exchanger, Fin Fan Air Coolers, pressure vessels, tubes, gaskets & stud bolts, our products will be delivered on time to any worldwide location. ,

We have proven capability to ensure that all orders
are delivered to the highest quality, on time, to any worldwide
destination. Our highly experienced team offer an excellent service
whatever heat exchanger product is required.
REPAIR AND MAINTENANCE SERVICES

ROUND THE CLOCK REPAIR
Keeping your facility operational and production going may be one of your largest concerns, but it is also our largest priority. Our teams of skilled and professional technicians are standing by 24/7 to provide you with the fastest service possible and to ensure your down-time is kept to an absloute minimum.

FAST & RELIABLE MAINTENANCE TEAMS
Maintenance programs, while necessary, cause delays and reduced production for our customers. That is why our highly trained maintenance teams are always on standby and ready to be deployed at short notice from our Cheltenham facility.

QUALITY WITH SPEED
Even with our fast turn-round we never compromise on quality. You will see from our accreditations we are totally committed to providing quality services that are in line with the strict engineering standards found with regulating agencies across the globe. When you telephone our service department, your call goes directly to one of our maintenance teams for immediate action.
MATERIALS AND PROFESSIONALS
We carry a wide range of stock including tube, plate and associated materials for heat exchangers. This is necessary to maintain our fast turn-round and give us the leading edge. When heat exchangers are returned to Cheltenham, we have dedicated bays and skilled staff capable of handling large projects.

SPECIALISED TECHNIQUES
With over 60 years in manufacturing, we have learned a great deal about the materials needed to create industry-leading products. The various materials used in our products call for skilled technicians, such as those you will find at Graham Manufacturing.

ADDITIONAL SERVICES
In addition to all of the professional features we have mentioned, we also provide the following services and benefits
NDE level 2 operators
Dye penetrant
Magnetic particle inspection
UT
Iris Testing
API Inspectors
Coded Welders (all materials)
Tube bundling
Pressure Testers
UHP cleaning services
Bolt torquing and procedures
Bundle extraction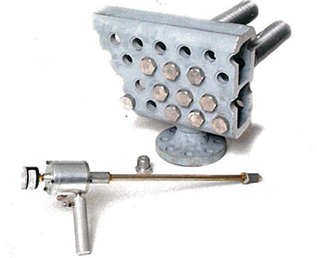 TUBE TESTING SERVICE
Due to the configuration of the tubes, identifying damaged or leaking tubes in an air cooled heat exchanger has always been a challenging task.
However, the G-150 tube testing gun makes this task quick and simple.
The G-150 pneumatic tube testing gun works by attaching a channel head extension. This allows the testing gun to properly operate outside of the water box. The air injection control valves are inserted, the seals on the testing guns expand, and the pressure indicated on the pressure gauge will let the technician know if there is any loss of air pressure. This design is accurate and can find even the smallest leak.
TUBE Plugging Services
The traditional method of tube plugging is not very effective. A rod was tacked to a tapered pin which was then beat into the tube.
Once the plug was in place, the rod was shaken to break it from the pin. Not only is this method not effective, it can also be hazardous for workers in the area. Occasionally, the plugs can lose their hold on the tube and can be projected out, similar to a bullet. However, at Graham Manufacturing, we use EST Group's patented CPI Pop-A-Plug®.
This innovative plug is resistant to thermal cycling and can provide a seal strong enough to prevent helium leaks. The unique design helps to protect the tubesheet ligaments and adjacent joints. Additionally, these plugs are easy to install and only takes seconds.